Among Salt Lake City and Park City car shoppers, the buying vs. leasing debate rages on. There are many benefits associated with both, and we want to help you explore your options. Our team at Audi Salt Lake City has put together this guide to help you do just that.
Below, you can learn more about the advantages of buying and leasing. Decide which option makes the most sense for your needs, and contact us for more information!
The Benefits of Buying a Car
There are certain freedoms associated with owning your own car. When you buy, the title is transferred to you as soon as you pay off the loan. At this point, you can enjoy having no monthly payments and the budget flexibility it brings! You'll typically pay less over the long term when you buy.
Ownership comes with other perks. You're literally in control of your own destiny when the title belongs to you. You'll have no mileage limits or restrictions on appearance and customizations, as you would see with a leased vehicle.
Plus, when you buy, you have the option to sell at any time. You're never locked into a fixed ownership period as you would be with a lease. If your financial situation changes, your car can, too.
The Benefits of Leasing a Car
Leasing is another way to get behind the wheel, and it appeals to many drivers. When you lease, you can usually expect lower monthly payments than if you had financed the same car. Plus, down payments are often minimal or nonexistent when you lease.
Lease agreements last no more than a few years, so you can drive a new car more often. Upgrade to the newest model every few years and enjoy the latest in style, technology, and safety features!
Most leased cars are covered under manufacturer warranty for the lease period, too. Make unexpected repair costs a thing of the past and enjoy more predictability in that realm.
Should I Buy or Lease a Car?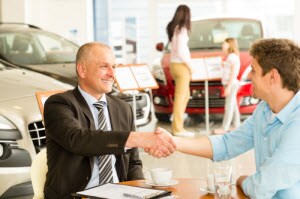 Your answer to this question will depend on what you need from your next vehicle. If you can save for a down payment and you want a car you can keep for a long time, buying may be the best choice for you. Remember, it tends to be the most cost-efficient in the long run.
However, if you have trouble committing to just one car and you'd rather have lower monthly payments to begin with, leasing can be appealing. It offers a different sort of financial flexibility and, for many, the most exciting way to get behind the wheel.
Buy or Lease Here at Audi Salt Lake City
Salt Lake City and Park City drivers can learn more about buying vs. leasing here at our finance center. Feel free to stop by and ask us your questions. We'll help you determine which path makes the most sense for your situation.
Schedule a sit-down with the finance experts at Audi Salt Lake City today!