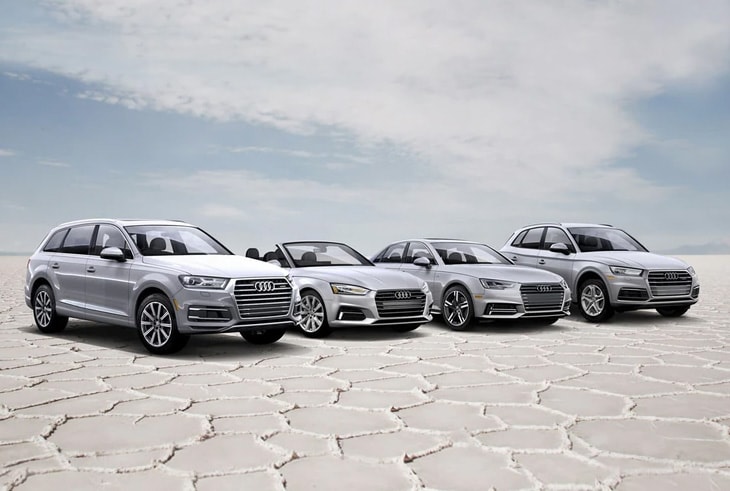 Fast-Track Your Car Buying Experience With Our Convenient Online Payment Calculator
Search. Purchase. Relax. Our online purchase tools can streamline the process and be done from wherever you're most comfortable. If you're ready to get started, all you'll need to do is follow the steps below.
Step 1: Browse Our Inventory
When you're ready, press the "Click to Drive" button to get started
Whether you want the latest, brand-new models or you're interested in purchasing a used car, truck, SUV, or van, Audi Salt Lake City has what you need.
Step 2: Calculate Your Payment
Use our payment tool to calculate and set up the financing plan that best fits with your budget.
Choose whether to lease, finance or pay cash
Add your down payment
Choose your term and mileage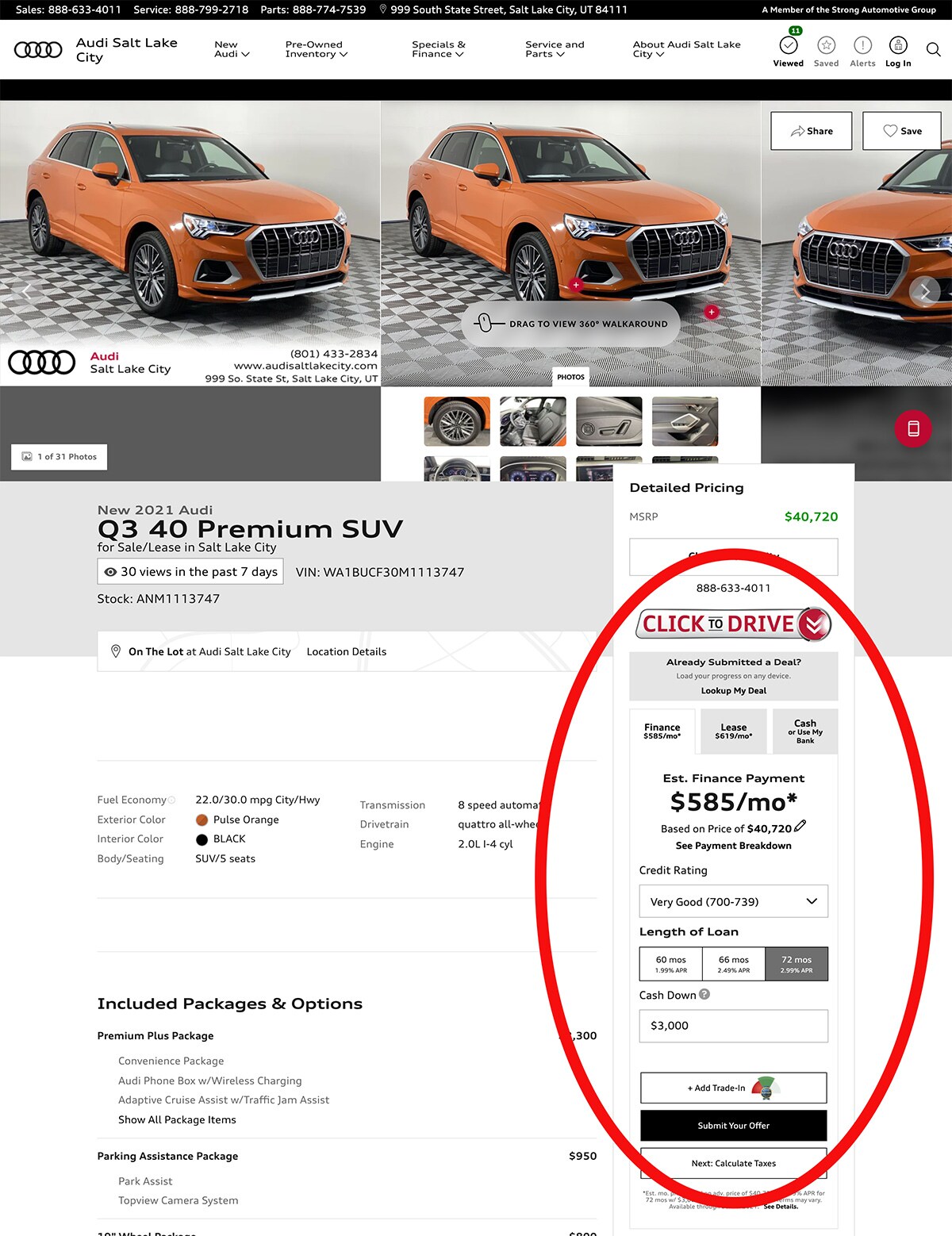 Step 3: Value Your Trade
SAVE 26 MINUTES
If you have a vehicle to trade in toward your new car purchase, use our Kelley Blue Book® trade-in tool and get an estimate right away.
Input your trade's information
Answer a few questions on the present state of your vehicle
Receive a trade-in estimate in no time
Apply that estimate to your deal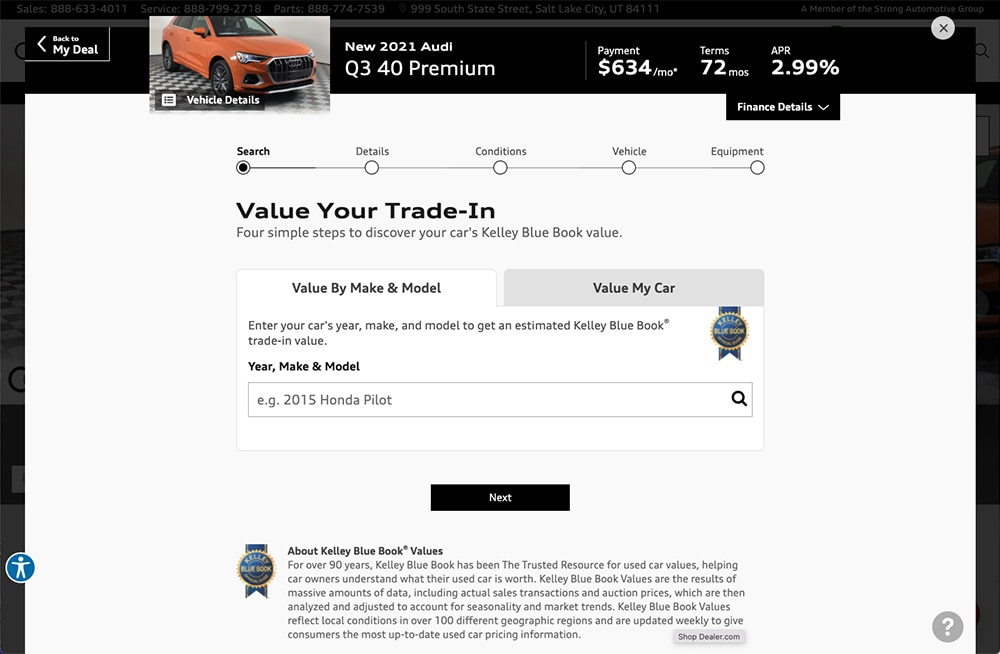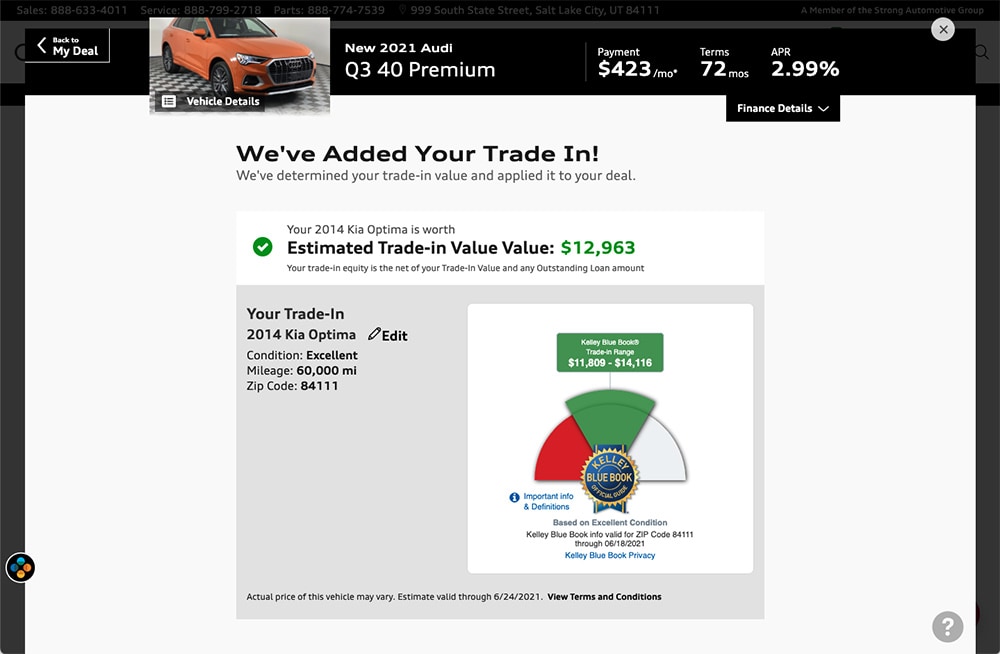 Step 4: Add Additional Protection Plans (Optional)
SAVE 10 MINUTES
You have the option here to add additional protection plans on top of New Audi and Certified Pre-Owned Audi protection warranties, such as GAP Protection.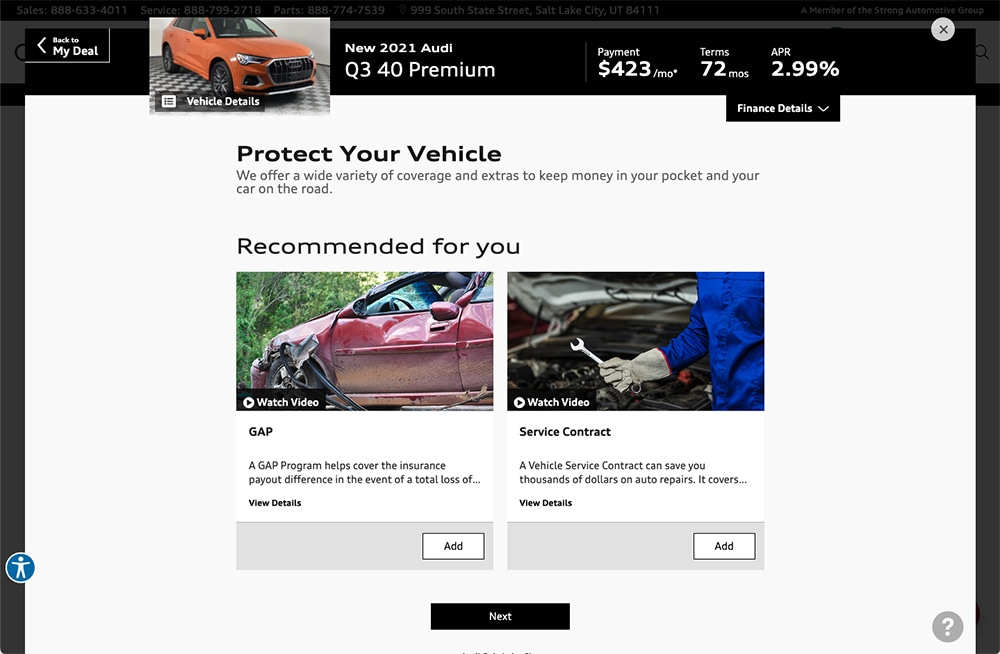 Step 5: Apply For Credit
SAVE 45 MINUTES
Our digital finance application is a simple and fast way to input your auto loan application.
Save time
Enter your contact, financial and cosigner's information (if applicable)
Begin your application from your home or office
Submit when ready and see what financial options are available to you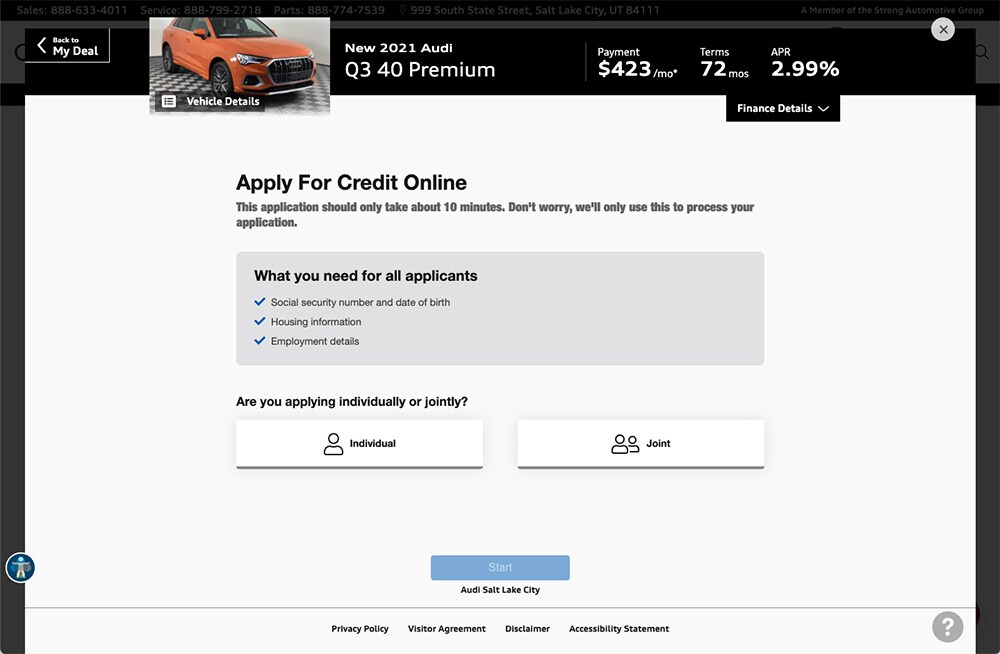 Step 6: Schedule A Home Test Drive (Optional)
SAVE 16 MINUTES
Are you interested in seeing how spacious your new SUV is? Do you want to feel the power within your car? We would love to put you in the driver's seat of the vehicle you choose.
Schedule during online sales hours
Choose the date and time that works best for you
We'll swing by so you can test drive the vehicle of your choice while maintaining an appropriate social distance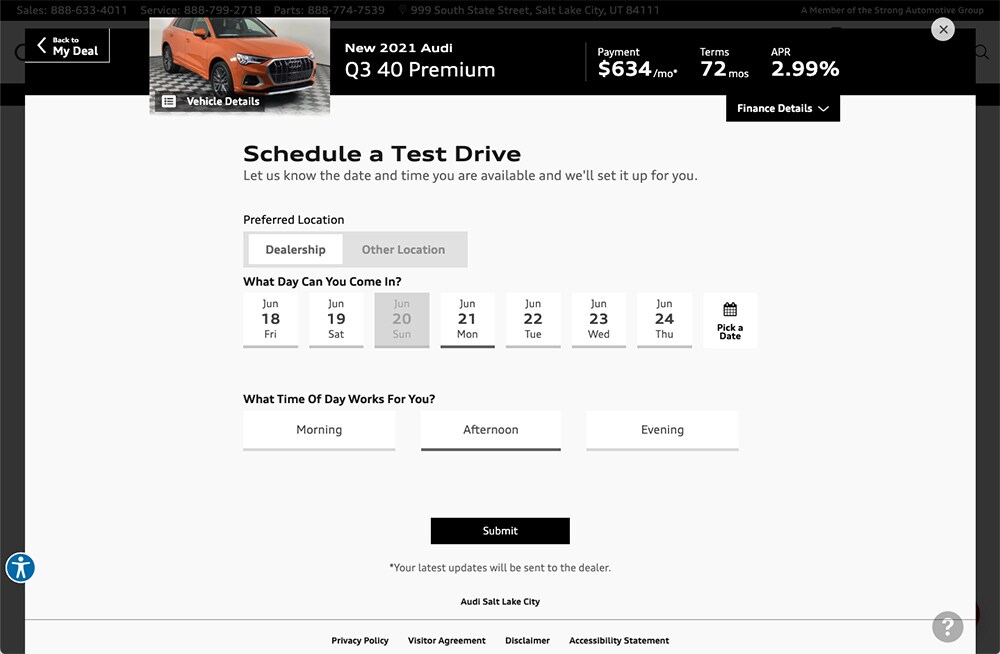 Step 7: Review Your Deal
SAVE 16 MINUTES
Review your deal and confirm it meets your needs. In this step, you also have the option to add additional protection plans and warranties if you'd like.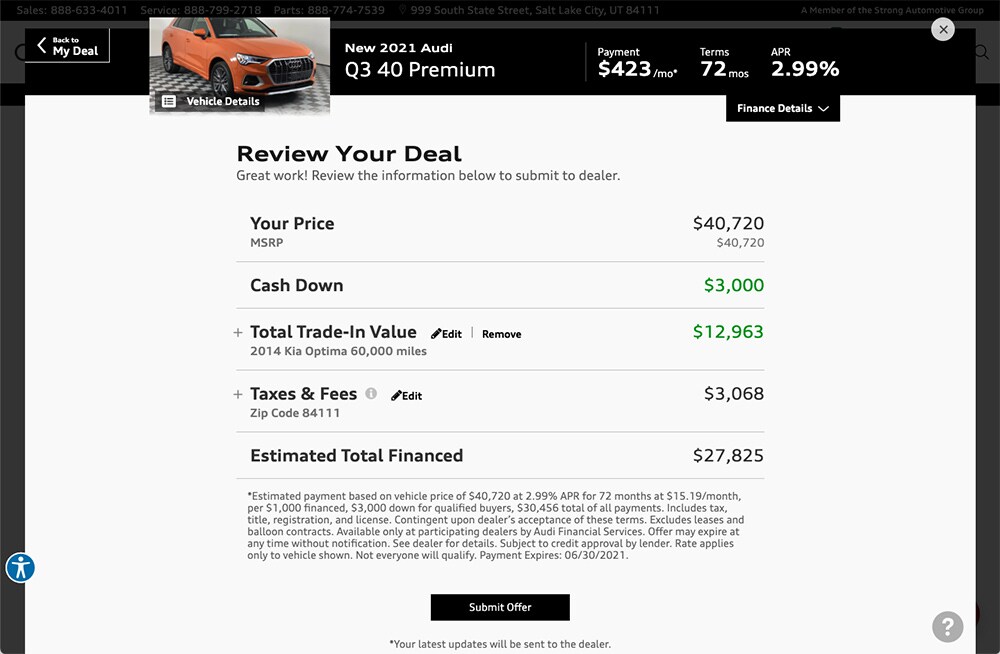 Step 8: Vehicle Delivery
The last step has finally arrived! You've found the car that you love, you've discovered the financing that you need, and you've accomplished every aspect of the car buying experience right from your home or office. Now all you need to do is make your car purchase official. Congratulations! You've not only purchased the vehicle of your dreams, but our online tools have allowed you to buy your car from the comfort of home.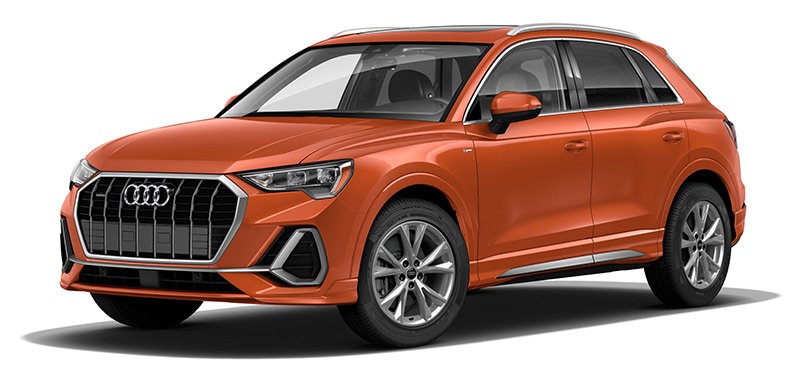 ---
Use Our Online Tools To Buy Your New Or Used Audi Vehicle
If you're looking for luxury, performance, and technological details in your next new car or SUV, you'll want to consider the collection of Audi vehicles at Audi Salt Lake City. From the stunning Audi A5 Sportback to the brilliant newly redesigned Audi Q7, our lineup of brand-new Audi cars and SUVs is expansive. Interested in a used vehicle instead? We have multiple like-new models available as well. Whether you're purchasing a brand new Audi car or SUV, like the Audi Q5, Audi S3, or Audi A6, or you're buying a Certified pre-owned Audi model, our online inventory is available for you to browse. Simply select which vehicle you'd like to purchase and follow the above instructions above to buy the new or used Audi car or SUV of your dreams.
Want To Learn More? Contact Us At Audi Salt Lake City Today!
Do you have questions about the online buying process? Would you like to know more about the Audi model you're interested in? Is there any other way that our team at Audi Salt Lake City can help you? Feel free to contact our Audi Salt Lake City dealership or stop by our Littleton, CO, dealership at your next convenience. We'd love to answer any questions that you may have and look forward to helping you find and purchase the right new or used vehicle that fits you best.