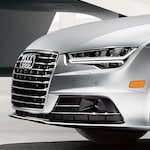 The 2020 Audi A7 is a breath of fresh air for an automotive community that's made up of many high-quality vehicles. The new A7 has raised the stakes once again by unveiling one of the industry's top sedans. This car can seat at least five people, and it comes powered with an efficient engine.
The 2020 Audi A7 takes tech advancements to another level. One of the better features here is the ambient-interior lighting. Some of the softest hues will illuminate certain areas of the cabin, and the LEDs can alternate in illumination. The new A7 offers two versions of the Bang & Olufsen audio system. Of course, the exact system will be determined by your trim choice. This audio system will reproduce earth-shaken sound. The A7 will also come with a 12.3-inch driver display.
Hit us up by visiting our location if you would like to take a test drive.