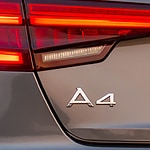 The Audi A4 luxury compact sedan was created for you: drivers who wish to combine technological sophistication and luxurious comfort with everyday practicality. Elite design engineers incorporated these inside a sturdy exterior and produced a new Audi A4 luxury compact SUV. Its popularity continues to grow as motorists discover a select vehicle that was created to accommodate their wishes.
In this model, LED lights the way. The HD Matrix design LED headlights brightly illuminate the road with animated sequencing to help you see nearly everything in your path. When you unlock your sedan using Audi's advanced key, LED lights illuminate your tail lights with animation, alerting your position for drivers in your rear..
An exclusively manufactured vehicle deserves a test drive from those for whom it was created to serve. Audi Salt Lake City would love for you to sit and drive in luxury and test out the features that your needs crafted. It's a hassle-free experience that's sure to please the believer in you.