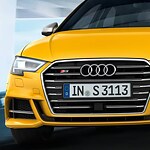 A popular luxury full-size sedan, the new Audi S3 offers some of the most powerful performance specifications. Find out how these specifications work to your advantage when you make the new S3 from Audi yours today.
The new Audi S3 comes with a sturdily built four-cylinder engine that offers a high level of torque and horsepower. It is built to go from zero to more than 60 miles per hour in a matter of seconds. It also has a user-friendly automatic transmission and front-wheel drive that make it easy to handle on the road. The new S3 from Audi is optimally designed to be driven on both highways and city roads.
The new S3 is also designed for maximum safety. It comes with brilliant LED headlights that illuminate your path clearly. It also has built-in safety technology like lane keeping assist and a rear view camera to see what is behind you.