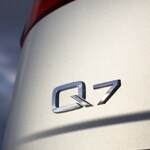 At Audi Salt Lake City we know you like a vehicle that performs up to its expectations. That's why we offer you cars like the Audi Q7, a popular midsize luxury SUV that is newly designed to make your driving experience more superior, as well as luxurious.
Sitting on a super lightweight frame, the Q7 has a totally redesigned five-link suspension system that lets the adaptive air suspension propel you down the road with control in a variety of different damping options.
With seven easily changeable drive select options that the Q7 has to offer, you can take full advantage of the road with transmission shifts that are incredibly smooth; it's the ultimate method of driving the car in your own personalized way. So when you are ready to get behind the wheel of a midsize SUV that is simply better than the rest, come and visit us at our dealership in Salt Lake City where we'll be happy to take you on a test drive!