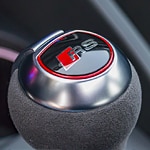 Selling luxurious sedans, Audi Salt Lake City has a large selection of Audi RS 3 models. Featuring five seats, this full-size German vehicle is known for its superb agility and versatility.
Achieving a 0 to 60 MPH acceleration in 3.9 seconds, the RS 3 is one of the fastest luxury sedans in North America. Such performance is possible thanks to the 2.5 L TFSI engine block, which has a turbocharger. Made of aluminum alloy, the four-cylinder engine block yields up to 394 horsepower and 354 pound-feet of torque. Additionally, the combustion mechanisms in the valvetrain are controlled by the signature Audi Valvelift technology.
Instead of relying on automatic or manual changes in gears, this Audi sedan relies on dual clutches that precisely shift points according to expected driving conditions. Seven different gear ratios are generated by the S Tronic transmission that's mated to a classic all-wheel drive (AWD) with the Quattro platform.