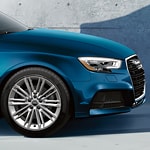 You have probably heard the expression that good things can come in small packages. That being said, it is possible for you to find a smaller vehicle to drive around Salt Lake City without sacrificing luxury and good design. The 2019 Audi A3 is a compact sedan that includes the same attention to detail found in its larger brethren.
The 2019 Audi A3 includes a number of design features to help separate it from other vehicles in its class. This includes an exterior that comes with a standard panoramic sunroof that allows the natural light of the sun to come in. When you want to reduce the level of natural light filling the cabin, the manual sunshade is available.
Inside the Audi A3, you will discover the standard leather seats. The driver's seat, in particular, includes 12-way power adjusts to help you find the perfect position. The is also a 4-way power lumbar adjustment to increase the comfort of every ride.