Battery repairs or battery replacements are a vital part of the overall health of your model. The battery is responsible for jolting your car to life. Without it, you wouldn't be able to travel around roads near Salt Lake City, Park City, and Heber City. To help, Audi Salt Lake City developed a service center that can help keep your vehicle up and running.

Battery repair is one of our many services. When you book your appointment online, you can pop in and experience an efficient and effective repair.
How Long will a Battery Last?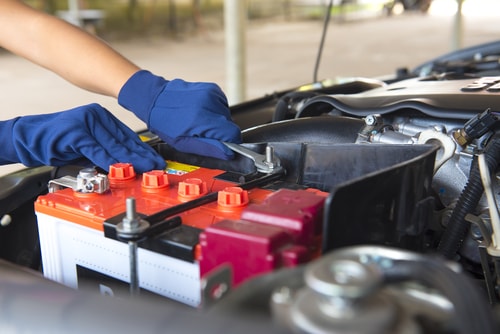 Batteries have a pretty hardy lifespan, stretching anywhere from 4 to 6 years. This is a relative length however, as there are factors that can cause your battery to wear down more quickly.

First, weather plays a major role. As with many other parts in your vehicle, exposure to excessive cold or heat will shorten the lifespan of your battery. The type of vehicle you have is also important, as models tasked with heavy-duty towing or models with high-revving, performance-oriented engines may wear down the battery more quickly.
Your own personal driving habits will factor in, too. Lastly, vehicles that deal with heavy, stop-and-go traffic on a regular basis may want the battery replaced more often.
Signs You Need Your Battery Repaired or Replaced
There are certain symptoms that suggest your battery will either need to be replaced or repaired. If any of the following symptoms accurately describe your vehicle, stop by our service center and we'll determine whether repair or replacement is the proper route!
Your Vehicle Lags to Start: The battery is responsible for jumpstarting your car when you turn the key. If you find that your vehicle has a delayed response when you're attempting to start it, odds are the battery has begun to die.

Electrical Faults: The battery is responsible for the electronics in your vehicle as well. A couple of signs that your battery isn't generating sufficient power includes dimming lights on the dashboard and diminished headlight output.
Check Engine Light Appears: The check engine light is a standard alert that tells you some aspect of your model requires service. If the battery is beginning to die, the light may appear.
The Battery is Old, Warped, or Smells: Batteries that reach the end of their use will look warped or beaten, may have corrosive acids built up along the outside, and may begin to emit a distinct odor.
How Long Does a Car Battery Replacement Take?
Car battery replacements are a standard procedure. When using our scheduling tool to book a visit to our shop, you can expect to be in and out in around a half hour or less!
Receive a Battery Replacement near You
Whether you reside in Salt Lake City, Park City, or Heber City, you're just a short distance away from the Audi Salt Lake City Service Center. When you need your battery replaced, give us a call!